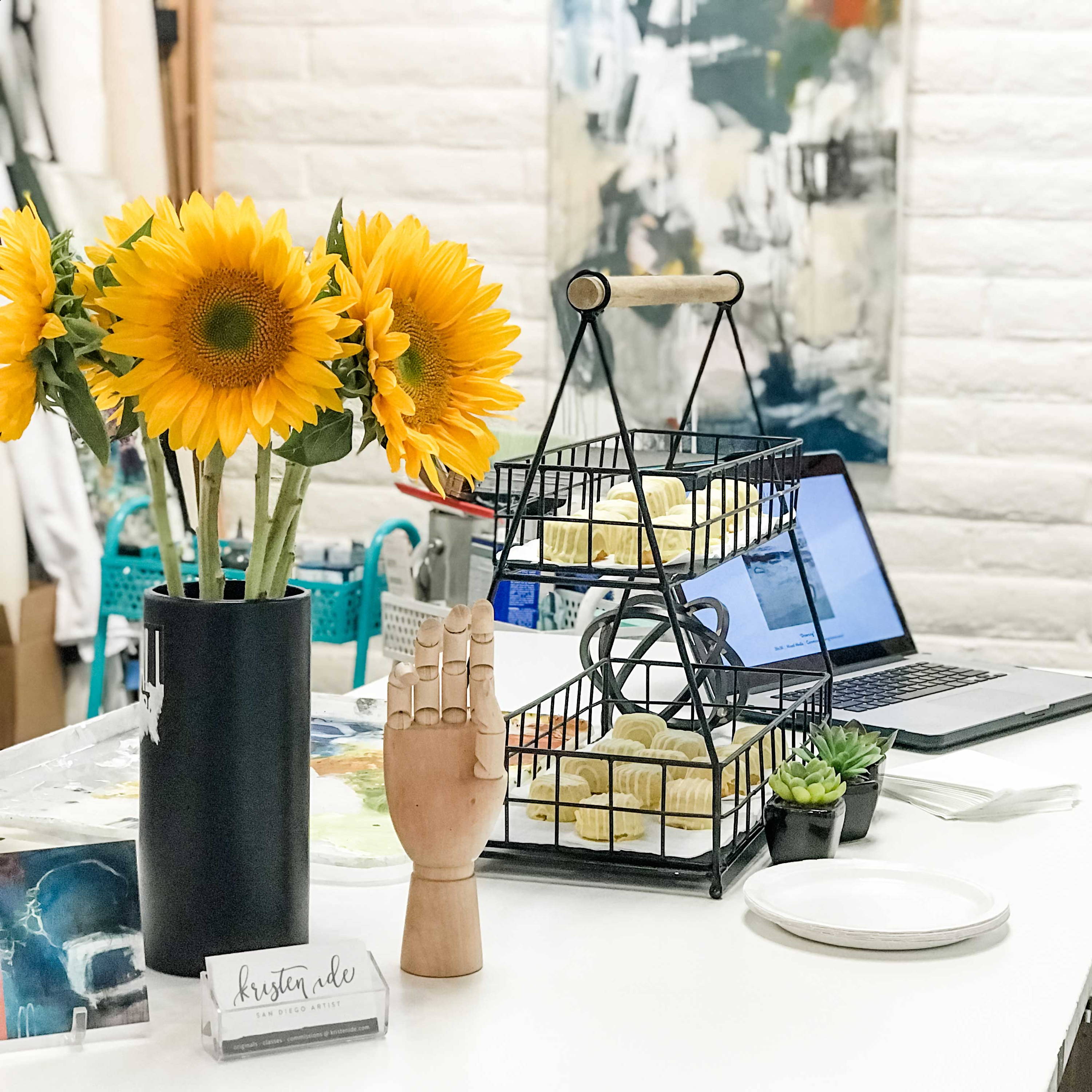 Open Studio Checklist for Artists
I'm often asked how I host my open studios and advice for emerging artists looking to host their own. From hosting within a co-op community or at your own location, you can use this extensive checklist to create a more successful event. It's long but the effort is worth it and even as an introvert, I leave these events on a high note.
But before I get into the planning stages, I want to first define what an open studio is and its purpose. For me, I don't see the actual event itself as a "selling event." Open studios are a time of sharing, hospitality, and building relationships. If you look at your open studio through this lens, you will rarely be disappointed. In short: it's a party and everyone has shown up to celebrate your work! 
In my experience, the sales typically come the week after. If they come during the event, I am grateful but I try not to expect it. I want to focus on the people, not the sales. I am inviting them into my studio, the same way I would invite my friends to my house. 
I want to share what I've been up to and let them have a peek into my world and get to know me personally, whether through sharing the story behind the work or doing live painting demos. For collectors and art enthusiasts, this is the most exciting part of an open studio!
And with that, let's dive into the planning stages of an open studio.
NOTE: 
This list does not take into consideration any health or safety regulations currently in place due to COVID. Please implement your state and local guidelines above all else. These are just my "general to do's" and one day they will all be relevant again.
2 Months Before
Set a date, unless you're in a co-op community that does it regularly, and make sure that it doesn't conflict with holidays or is too close to another major deadline you have

Get studio signage with your name and invitation materials

*Personally,* directly invite your friends, family, students, mentors, loyal collectors, long-time supporters, etc. The e-blast (aka "shotgun approach") is for everyone else.
1 Month Before
For everyone else you want to invite, post the dates and times to your website/blog, social media, newsletter, and email signature 

Add the event with location, directions, and parking info on your FB page, Yelp, and Eventbrite 
2 Weeks Before
Make or order price tags (I like getting business card sizes)

Check to see if you need to re-order any printed materials you regularly keep on hand

Print, package, and arrange limited edition prints, if any

Order copies of books or catalogs featuring your art, if any

Plan to finish new works 

Have all artwork info on the backside (signature, title, size, medium) 
1 Week Before 
Send an invitation reminder to everyone

Think of a fun food theme to go with what you're showcasing

Curate a music playlist to fit you and your art (especially if what you personally listen to influences your work or process)

Find a "draw" that makes it interesting and fun to attend (revealing all new work, auctioning items to charity, screening of your collection's video documentary, etc.)

Varnish or seal your works (I mark the backsides with a tiny 'V' to track pieces already varnished), one week before, two days at least to allow for the fumes to air out

Signing your art on the front or side is optional in case you like to sign in front of the collector at the time of purchase

Frame, mount, wire, etc., to get your artwork ready for buyers to take home and hang 
Ask for help, especially if you don't feel comfortable leaving your space for things like restroom breaks or need man power for the setup

Buy any serving ware or napkins, etc, you need for food and drinks
1 Day Before
Send final invitation reminder to everyone

Hang your art with breathing room; you don't need to hang everything you own...curate, curate, curate

Prioritize showcasing your new works or at least rotate your old works to make it appear "fresh"

Check your lights and replace burnt out bulbs

Charge your music speaker and payment processors
Nothing says "special" or "valuable" quite like having a vase of fresh flowers

Set out a guest book to collect names and emails 

Set out a welcome sign

Set out a laptop with a slideshow of your past work

Set out postcards for new art releases, classes or upcoming events

Set out business cards or brochures with your contact info

Set out a *small* trash can for guests to use

Set out your payment processor and a sign showing what you accept

Sweep, touch up walls, and tidy up any potential trip hazards
Simple: don't stare down or stalk the guests. Stand outside or nearby to invite them inside (some are hesitant out of respect and need a friendly welcome before they step foot in your working space). 
Give them space to browse and fall in love with your work. Let them explore. They will come get you or talk to you when they want to know more or to purchase. 
Have something to do or someone to chat up other than a guest so they don't feel the pressure of being "sold to" or worry about being "stuck" in a small talk conversation. I like to mention and serve food and drinks or ask about their day to disarm any notion that an "ask" is coming. 
Having music outside your door or in a corner helps folks to enjoy the art viewing experience. Have your food and drinks set towards the back of the room where there is plenty of space for a "flow of traffic" and so they don't grab and leave.
Have your prices listed so folks can gauge what they can buy without feeling like they have to ask, some are too timid and will walk away. 
Be ready to negotiate and know your bottom line. Be ready to talk about delivery or framing needs. Be ready to talk about your work's inspirations and processes. Be ready to talk about your process for doing commissions. Be ready to stay later than you had planned.
The Day After
Rest! Most artists find themselves low on energy the day after and it's okay to give yourself some time to re-energize after making such a big effort 

Post pics of the event (hello FOMO) and thank everyone *not just* for coming but *mainly* for such a successful event and how you enjoyed seeing familiar faces and meeting new ones. They came because they enjoy this type of thing, not because you asked or begged. So agree and acknowledge how enjoyable it truly was...especially the part where you got to meet and talk with them!
The Week After
Take note of what went right, what went wrong, and what was confusing so you can improve for the next go around!

Add the names and emails from your guest book to your newsletter list and tag them based on how you met them.

Follow up the next *business* day or two with anyone who gave you contact info for art purchases or commissions.